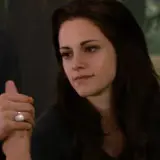 Kristen Stewart is adjusting all too well to her new supernatural abilities in the first clip from Summit Entertainment's The Twilight Saga: Breaking Dawn Part 2.
Stewart's Bella is still a newborn vampire at the beginning of the final Twilight chapter and learning to harness her new powers with the aid of husband Edward (Robert Pattinson). She's far more tame than she should be as most newborns are wild and want to run around eating people.
When Edward suggests to brother Emmett (Kellan Lutz) that Bella is the strongest of all vampires, Emmett thinks that's a joke and wants an arm wrestling match to prove it. Cue hip music and Bella showing Edward who the new muscle in the family is.
The Twilight Saga: Breaking Dawn Part 2 is widely expected to be the highest opening and possibly even grossing film in the five-film teen sensation franchise. Advance ticket sales are soaring with less than a month to go before the film's November 16 release. It will need to top $142.8 million in its first three days to surpass the huge opening and franchise best that The Twilight Saga: New Moon put up in 2009.
Watch the first The Twilight Saga: Breaking Dawn Part 2 clip with Kristen Stewart flexing her vamp muscles below.