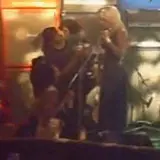 Someone with access to The Runaways set in Los Angeles wandered around with a hand-held video camera shooting footage of whatever they came across and then threw it on YouTube for the world to see.
The video starts out tame with hair and makeup stuff you'd just assume skip. Then it shifts to a skating rink where Dakota Fanning and Kristen Stewart can be made out as Cherie Currie and Joan Jett, respectively, jamming on the stage for a few seconds while cameras role and skaters skate.
The other Runaways are Scout Taylor-Compton as Lita Ford, Alia Shawkat as fictional Robin (due to rights issues), and Stella Meave as Sandy West. Check out pics of all five filming a scene here.
The Runaways is on track for a 2010 release. With any luck a teaser trailer will drop this fall.