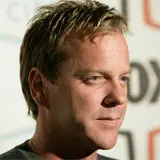 Kiefer Sutherland is returning to Fox after the network picked up his new series Touch for a 13-episode order earlier today.
Sutherland became a fixture on Fox for nearly a decade as Jack Bauer in the hit series 24. Since then, he appeared in 10 episodes of The Confession and provided voice work for several episodes of The Simpsons before making the Touch pilot. He also has a pair of films in the early stages of pre-production, The Reluctant Fundamentalist and Fairytale of New York.
Touch comes from the mind of Tim Kring, best known for NBC's Heroes. In the series, Sutherland will play a single father and widower who struggles to connect to Jake, his mute 11-year old son. It will be revealed that Jake has a special ability to see what others cannot, and make connections where none seemingly exist. Though it's not explicitly revealed yet, odds are favorable that Jake's ability is activated via a single "touch."
Francis Lawrence, who wrote Water for Elephants starring Robert Pattinson, penned the Touch pilot.
Look for Touch to premiere during the spring 2012 season.