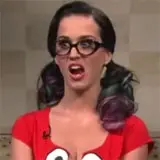 After a week in which singer Katy Perry's canned Sesame Street skit with Elmo stirred up controversy after making the Internet rounds, she took to Saturday Night Live to poke some fun at the issue head-on.
Perry portrays a bouncy, bubbly and busty school girl wearing an Elmo-like shirt with a strategically cut slit right down the middle in this clip from the SNL segment 'Bronx Beat.' Her character is being questioned for causing a ruckus at the library for the outfit which is deliberately more revealing than the wedding dress she wore on Sesame Street.
The moms who took issue with Perry's Sesame Street skit are no doubt fuming over this followup. Perry, of course, is loving every minute of the easy publicity.