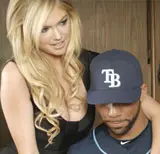 Kate Upton, the new 2012 Sports Illustrated Swimsuit Issue cover girl, took some time out of her busy schedule to help pitch (sorry, couldn't resist) Major League Baseball 2K12 in a new digital film, and brought all her best assets to the table.
The film features 19-year old Kate Upton along with MLB 2K12 cover boy Justin Verlander of the Detroit Tigers, C.J. Wilson, David Price and Jay Bruce hanging out in a trailer called "The Perfect Club." Upton, sporting a low-cut top, is giving pointers on how to pitch a perfect game, and ends up doing a physical demonstration with Price's hands. He must have won rock-paper-scissors prior to the camera rolling.
While Upton has her arms wrapped around Price, the camera switches to Verlander who has the best expression ever on his face. You would think Upton is sitting in his lap by his grin. Priceless!
Oh yeah; the point of the film is to promote the Perfect Game Challenge in MLB 2K12 that will award the first person who pitches a perfect game, and can prove it, a cool $1 million dollars. This is the third year of the challenge and a winner has been confirmed each of the previous two years.
MLB 2K12, sans live Kate Upton finger circling demonstrations (sorry guys), hits stores for Xbox 360 and Playstation 3 on March 6, 2012.