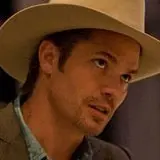 On January 3, 2012, Sony Pictures Home Entertainment will release F/X's Justified: Season 2 starring Timothy Olyphant and Nick Searcy on Blu-ray and DVD per a new listing at online retailer Amazon.com.
The release date gives an indication as to when Justified: Season 3 will premiere on air. F/X has yet to announce the exact date, though typically new seasons begin a few weeks after the previous are released on home video. Justified: Season 3 is already locked in for 13 episodes.
The Justified: Season 2 Blu-ray cover art is below. I'll share any additional information about its release when Sony formally announces the release date.
Click here to pre-order Justified: Season 2 on Blu-ray for $31.99 at Amazon.com, 36% off the $49.95 list price.