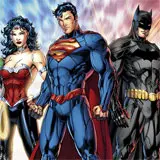 Warner and DC's Justice League film project has been awful quiet considering the expected – though not formally announced – summer 2015 release date. Every now and then a new rumor pops up that the wheels are indeed in motion on that other big superhero franchise. The latest suggests a core team of superheroes has been selected.
According to Latino Review, whom have been leading the Justice League scoops department for some time now, the core team members will consist of Superman, Batman, Wonder Woman, Green Lantern and The Flash. In other words, the five superheroes those that don't follow comics religiously are most likely to have heard of.
Thus far three of those five have appeared on the big screen recently. It is widely expected that Zack Synder's Man of Steel will be set in this new Justice League universe with Henry Cavill serving as the link into the Justice League film.
After that things get a bit hazy. The biggest questions right now, aside from whether Warner Bros. will officially green light the film or not (it would be shocking if they didn't at this stage), are whether the Batman character will come from Christopher Nolan's universe (i.e. Joseph Gordon-Levitt) and Green Lantern from the previous film. It will be up to Warner Bros. to decide whether they want to reboot those characters entirely or try to build upon what we've already seen.
Latino Review also suggests that some B-team Justice League members might make a cameo appearance to set up a bigger role in future films. Those characters include Martian Manhunter and Aquaman. Apparently Hawkman is at the bottom of the list, though DC and Warner will likely keep a close eye on how Marvel is handling Falcon, a similarly winged superhero, in Captain America: The Winter Soldier.
My best guess is that Warner Bros. and DC will formally announce the Justice League film at Comic-Con this upcoming July, right after they see how much money Man of Steel has raked in after a month of release.
Source: Latino Review