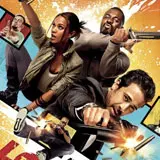 Warner Bros. has unveiled plans to bring The Losers starring Jeffrey Dean Morgan, Zoë Saldana, Chris Evans, Idris Elba, Columbus Short, Óscar Jaenada and Jason Patric to Blu-ray on July 20, followed by Clash of the Titans with Sam Worthington, Gemma Arterton, Alexa Davalos, Ralph Fiennes and Liam Neeson on July 27.
We've known about Clash for several weeks after Warner accidentally published the disc details on their media website. Between that time and now, the Green Lantern sneak peek has been removed from the package though the remaining extras remain intact.
Both films will be presented in 1080p video and 5.1 DTS-HD Master Audio, with the standard DVD and digital copy included in the combo pack. Unfortunately for DVD devotees, almost all the bonus features are exclusive to Blu-ray.
Clash of the Titans
BD Exclusive: Sam Worthington: An Action Hero for the Ages
BD Exclusive: Harnessing the Gods: Maximum Movie Mode
BD Exclusive: Alternate Ending
BD-Live
Deleted Scenes
Digital copy and DVD edition
The Losers
BD Exclusive: Band of Buddies OPS Training
BD Exclusive: The Losers: Action-Style Storytelling
BD Exclusive: Deleted Scene
BD Exclusive: A First Look at Batman: Under the Red Hood
Zoe and the Losers