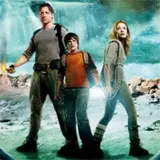 Warner Home Video has released the first details on the Brendan Frasier-starring Journey to the Center of the Earth remake (read our review) coming to Blu-ray Disc.
The disc is now confirmed for release on October 28 and will include four pairs of 3-D glasses to view the optional 3-D version (a 2-D version is also included). This will be the third film released on Blu-ray with a 3-D option, the first two being Best of Both Worlds with Miley Cyrus and The Polar Express.
Warner's marketing sheet states "3-D Versions Available Only With Initial Shipment. Replenishment Shipments are 2-D." We don't know if this affects just the DVD version or Blu-ray too and will pass along definitive information once received.
Early word on supplemental features is an audio commentary with Frasier and a filmmaker; three featurettes; Adventure at the Center of the Earth Challenge; and a standard definition digital copy (Blu-ray exclusive).
Journey to the Center of the Earth on Blu-ray will carry an SRP of $35.99. Check back regularly for technical disc specs and pre-order information.