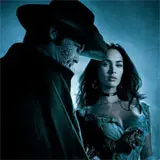 Jonah Hex starring Josh Brolin as the disfigured hero along with a scantily clad Megan Fox floundered at the box office to the tune of only $10.5 million in ticket sales by the time it left cinemas. Warner Bros. is now hoping the Blu-ray Disc and DVD release will help recoup some of the film's losses, and we now know when it will drop.
Jonah Hex is officially confirmed for a Blu-ray Disc and DVD on October 12. The Blu-ray version will be presented in 1080p video and 5.1 DTS-HD Master Audio. It will be a combo pack with the DVD and a digital copy included.
Bonus features are all exclusive to Blu-ray and include the following:
Deleted Scenes
The Inside Story of Jonah Hex
The Weird Western Tales of Jonah Hex
Pre-order Jonah Hex on Blu-ray for $24.99 at Amazon.com.