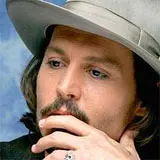 One of the earliest Batman 3 rumors to surface after The Dark Knight completed its box office run put Johnny Depp into the role of The Riddler.
This news was never taken more seriously than a fanboy-conjured fantasy but it is fun to ponder. If, and that's a big if, Depp were offered the opportunity, would he be interested in donning the green hat?
During interviews for Public Enemies, MTV caught up with not only Christian Bale but Johnny Depp as well. When asked if he'd be interested in taking on the role of The Riddler in Batman 3, Depp replied, "If the opportunity came, I'd definitely juggle it." Sounds like a yes to me.
You can watch the Johnny Depp Public Enemies interview over at MTV's Splash Page.