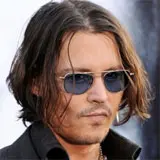 Johnny Depp and Meryl Streep are both in final negotiations to board Disney's big-screen adaptation of the Broadway musical hit Into the Woods.
Depp would play a baker who along with his wife ventures into the woods in search of a witch, played by Streep, that has placed a curse on their family. Their journey will bring them into contact with numerous classic fairytale characters such as Little Red Riding Hood and Rapunzel, amongst many others.
For Depp, Into the Woods would be the second big-screen musical he stars in from a Stephen Sondheim Broadway production, the first being Tim Burton's Sweeney Todd: The Demon Barber of Fleet Street. As with that film, Depp would be required to exercise his vocal chords and belt out some tunes.
Stepping behind the camera will be Rob Marshall who directed Depp in Pirates of the Caribbean: On Stranger Tides. Depp would begin filming with Streep and Marshall after he wraps Transcendence, filming now, and Black Mass later this year.
Into the Woods would fall in front of Depp's filming for Pirates of the Caribbean 5 which will shoot next year for a summer 2015 release. A director has not yet been attached to that project.
Source: Variety