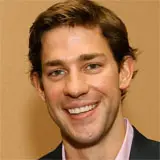 John Krasinski will be bringing his bewildered looks to the Netflix relaunch of Arrested Development in a cameo appearance, per Entertainment Weekly.
Krasinski's guest spot is being called "brief" and any other details about his appearance remain within the show's inner circle at this time. It's even unknown which of the 15 episodes Krasinski will appear in, other than he will pop up at some point.
Of course Krasinski can now be seen on NBC's The Office as Jim Halpert which wraps up its run for good on May 16. Netflix will be releasing all 15 episodes of Arrested Development: Season 4 simultaneously on May 26.
Krasinski joins an extensive and seemingly growing list of celebrities that will be poking their heads into an episode of Arrested Development including Andy Richter, Ben Stiller, Carl Weathers, Conan O'Brien, Henry Winkler, Isla Fisher, Kristen Wiig, Liza Minnelli, Ron Howard, Scott Baio, Seth Rogen, and the Workaholics trio.
Expect Netflix viewing records to crash and burn when Arrested Development makes its hugely anticipated return in just over three weeks.
Source: EW