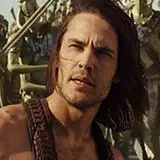 John Carter is expected to cost The Walt Disney Company around $200 million in losses for the first quarter of 2012, as announced this afternoon by the studio. The total loss after the film exits theaters next quarter is expected to be around $165 million.
The expensive Mars epic, based on the Edgar Rice Burroughs novel and starring Taylor Kitsch, is reported to have cost $250 or more to produce or more. With advertising and other fees, costs likely soared well beyond the $300 million mark.
Through its first 10 days of release, John Carter has managed to only attract $53.2 million in business domestically. The film has fared much better internationally with $126.1 million, or over 70 percent of the overall business. With a worldwide gross of $179.3 million, John Carter's losses are still in the multiple hundreds of millions of dollars.
Disney's $200 million loss was announced after the stock market closed and immediately sent their share price tumbling down over one percent in after-hours trading.
Though John Carter has been a bust, Disney still has their big guns coming out later this year. The May 4 release of The Avengers could put up two weeks worth of John Carter ticket sales in just a few days. Later this summer, Pixar's latest Brave will look to put the animation studio back on track after the critically panned sequel Cars 2.
John Carter was originally envisioned as a series of films. Any talk or plans of a sequel have been extinguished after the film's poor box office showing.