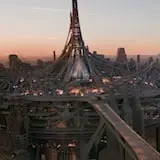 Disney's John Carter Blu-ray 3D, Blu-ray and DVD release is a little over a week away on June 5. The film is a lot better than its lackluster box office performance indicates and should do quite well on home video.
To help pass the time and build up some momentum headed into the forthcoming John Carter home video release, Disney is sharing a sneak peek at some of the bonus features you'll find included in the Blu-ray sets.
The first John Carter Blu-ray bonus feature sneak peek offers a series of CGI progression stills. It is followed by a concept art slideshow that looks at the elaborate sets and costumes created for the big budget flick.
John Carter is directed by Andrew Stanton and stars Taylor Kitsch, Lynn Collins, Willem Dafoe, Ciaran Hinds, Dominic West, Bryan Cranston, Samantha Morton, Thomas Haden Church and Mark Strong.
Click here to pre-order the John Carter Blu-ray 3D combo pack for $29.96 at Amazon.com, 40% off the $49.99 list price.
Amazon is also offering $8 off John Carter on Blu-ray with the purchase of either War Horse or The Help. Click here to take advantage of this offer (expires June 4).