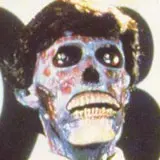 Scream Factory, a division of Shout! Factory, has revealed plans to release John Carpenter's beloved cult classic They Live on Blu-ray and DVD on November 6, 2012.
They Live was originally released in 1988 and stars ex-wrestler Roddy Piper as a drifter who discovers a pair of sunglasses that allow him to see a horrific secret about an already completed alien invasion of earth. The film also stars Keith David and Meg Foster.
Unfortunately Scream Factory isn't releasing any additional information about They Live on Blu-ray aside from the release date at this time. When They Live Blu-ray cover art, disc details and pre-order information is available, you can be certain I will share it immediately.
Source: Facebook