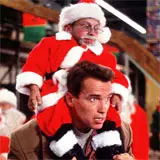 Joining Home Alone in a Family Fun Edition package on Blu-ray December 2 is another comedy, Brian Levant's Jingle All The Way starring Arnold Schwarzenegger.
Twentieth Century Fox Home Entertainment will present Jingle All The Way on Blu-ray in widescreen 1.85:1 1080p video and 5.1 DTS-HD Master Audio on a 50GB disc.
Like Home Alone, all the extras from the previously released Family Fun Edition on DVD will appear on Blu-ray.
Extended Cut of the film
The Making of a Hero featurette
Super Kids featurette
Turbo Man Behind the Mask featurette
Extended and Deleted Scenes
Jingle All The Way: Family Fun Edition carries an SRP of $34.99.
Click here to pre-order Jingle All The Way on Blu-ray for $23.95 from Amazon.com.