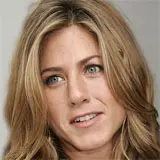 Jennifer Aniston's next deal will see her chasing after younger men.
Variety is reporting Aniston is on board to star in CBS Films' romantic comedy Pumas. She will play one of two thirty-something women chasing younger men until whoever they chase while on a French skiing vacation throws their emotions for a loop.
Television director Wayne McClammy will direct based on a script by Melissa Stack (whose IMDB page is completely empty). In case you're wondering, a project named Cougars is already in development, hence the use of Pumas instead.