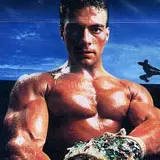 Update: Disc specs and cover art have been added.
The 1989 Jean-Claude Van Damme flick Kickboxer is headed to Blu-ray Disc on June 16 courtesy of Lionsgate Home Entertainment.
Kickboxer is classic Van Damme at its corniest best with bad music, muscle flexing, training sequences and improbable fighting. If you enjoyed Bloodsport then Kickboxer is worth giving a shot.
Lionsgate has remastered Kickboxer for Blu-ray and will present it in 1080p widescreen video with 5.1 DTS-HD Master Audio. There will be no bonus features included on the disc.
Kickboxer on Blu-ray has an unusually low SRP of only $19.99 which will put amazon pricing in the $15 range. Look for the pre-order link in the days ahead. Click through the disc details below to view high-res cover art.