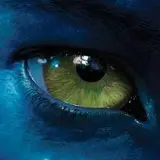 Traffic to the official James Cameron's Avatar website is about to increase exponentially.
A new link has appeared on the site stating tickets to the special IMAX 3D 16-minute sneak preview footage of Avatar that was shown at Comic-Con last month will be given away through the site beginning today, August 17, at 12pm PST. The footage is expected to include at least one new scene not shown at Comic-Con.
USA Today confirms the tickets will be issued in sets of 2. The footage will run before and after separately ticketed showings of Harry Potter and the Half-Blood Prince. It is expected to run twice between 6 and 9 PM August 21 only. After that, it's gone.
Theater specifics should be revealed once the ticketing page is updated. Head over there now, bookmark it, then check back immediately at 12pm PST to score your free Avatar tickets. Also check out the first official Avatar image released this past Friday.
In addition to the footage, August 21 will see the Avatar marketing campaign shift into high gear. On that day, Fox will unveil a 3D/lenticular one-sheet Avatar movie poster; Ubisoft will roll out the video game's official trailer; and Mattel will take the wraps off the Na'vi and alien action figures.