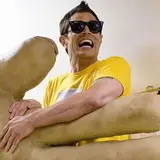 Paramount, MTV and the Jackass 3D crew would have been ecstatic with a $50 million opening weekend. Now that the final box office actual results are in, that initial studio estimate proved to be on the low side.
Jackass 3D earned a whopping $50.353 million from Friday through Sunday, topping the runner-up finisher Red by nearly $30 million in ticket sales. The big bow is not only a Jackass franchise best but the top October movie opening of all time behind Scary Movie 3's $48.1 million back in 2003.
Elsewhere at the weekend box office, Red starring Bruce Willis, Helen Mirren and Morgan Freeman shed a few hundred thousand bucks since yesterday's studio estimates to come in at $21.8 million. It was originally estimated to have brought in a haul of $22.5 million.
The complete top 10 weekend box office results for October 15 – 17, 2010 are as follows:
1. Jackass 3D: $50.4m
2. Red: $21.8m
3. The Social Network: $10.3m
4. Secretariat: $9.3m
5. Life As We Know It: $9m
6. Legend of the Guardians: $4.2m
7. The Town: $4m
8. My Soul to Take: $3.2m
9. Easy A: $2.6m
10. Wall Street: Money Never Sleeps: $2.4m
Next weekend the supernatural takes center stage as Clint Eastwood's Hereafter squares off against Paranormal Activity 2. Though our Weekend Box Office Prophet Game has been dormant the past two weeks, I promise it will return tomorrow. Be on the lookout.