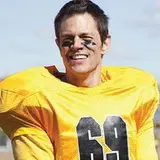 Jackass 3.5: The Unrated Movie starring Johnny Knoxville, Bam Margera, Steve-O, Chris Pontius, Ryan Dunn, Jason "Wee Man" Acuna, Ehren McGhehey, Dave England and Preston Lacynever made it to theaters, but it will be traveling to Blu-ray and DVD on June 14.
The DVD version of Jackass 3.5: The Unrated Movie will be available in stores everywhere, but the Blu-ray version will be exclusive to Best Buy brick-and-mortar stores and BestBuy.com.
Jackass 3.5: The Unrated Movie includes over an hour of bonus features with 30 minutes allotted to exclusive deleted scenes and bloopers. Other bonus features include 'Jackass: The Beginning' and 'Jackass European Tour.' Tech specs are predictable 1080p video and 5.1 DTS-HD Master Audio. As with the first Jackass 3 Blu-ray release, there will be no Blu-ray 3D version at this time.