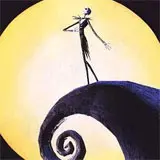 This morning's Amazon.com Blu-ray bestsellers top 10 list looks a little different than it has over the past few weeks. A steady resident in the number one spot has been usurped by a skinny lad and his gnarly friends.
Longstanding number one seller Iron Man: Special Collector's Edition on Blu-ray Disc now sits in the number two spot, looking up at Buena Vista's . Nightmare was released just yesterday and is likely benefiting from additional press surrounding its high-def debut.
Elsewhere in the Blu-ray top 10, Transformers has slid to the number four spot after being bumped by another new release this week, Heroes: Season Two. Heroes: Season One, previously available on HD DVD and selling for $20 more than season two, sits down at #9.
A pair of dramatically discounted titles as part of Amazon's current Blu-ray sale have clawed their way into the top 10. V For Vendetta and Twister, each only $15.99, reside at the #5 and #8 spots, respectively.
Click here to check out the rest of Amazon's Blu-ray bestsellers.