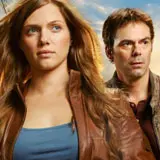 NBC found a potential winner with its high-concept J.J. Abrams series Revolution Monday night, thanks in part to a strong lead-in from ratings powerhouse The Voice. Fox, on the other hand, may need a doctor of their own to breathe some life into The Mob Doctor and get it off the ratings equivalent of life support.
The Revolution pilot episode has been running on Hulu for the past several weeks but that didn't stop viewers from tuning in for the broadcast premiere. It attracted 11.7 million viewers and a 4.1 18-49 rating coming off the 13.4 million The Voice put up before it, making Revolution the highest rated drama premiere since ABC's V three years ago.
Let's put these ratings into perspective before Revolution and J.J. Abrams fans pop the bubbly. Like Revolution, V was a high-concept series that coincidentally also featured Lost alum Elizabeth Mitchell. That series started strong and then quickly faded, ultimately finding itself cancelled after its second season.
Revolution has also yet to face off against its primary competition. Still to come starting next Monday night are the season premieres of Castle and Dancing With The Stars: All Stars. You can bet some of the curious Revolution viewers will either bail or set the DVR and return to the more established series.
Over on Fox, Bones kicked off its eighth season with 7.8 million viewers and a 2.3 18-49 rating. That's down from its first move to Monday back in April, but still up from the Season 7 finale. I'm sure Fox will take those numbers considering the series has been around almost a decade.
Where Fox will be sprouting gray hairs is with the series premiere of The Mob Doctor. It shed 65 percent of the Bones audience to scrape together 5 million viewers and a dismal 1.5 18-49 rating. Unless those viewers loved what they saw and feel compelled to spread the word, The Mob Doctor is in danger of being the target of a Fox cancellation hit sooner rather than later.