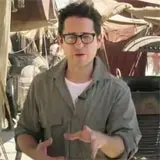 Star Wars: Episode VII director and co-writer J.J. Abrams has a very special message for fans from the film's set in Abu Dhabi that offers our first glimpse into the production and a new alien character.
As Abrams is delivering his message, a practical alien creature slowly walks across the frame, stops, looks at Abrams, and then continues on his way. The creature is a throwback to the original Star Wars trilogy that relied on practical effects rather than generating everything in a computer, as George Lucas did for much of the prequel trilogy.
The purpose of the message is to announce a partnership between Star Wars and UNICEF, with help from Bad Robot, that has created a new initiative called Force for Change. Disney has already pledged $1 million to this effort that raises funds and awareness for UNICEF's Innovation Labs and projects benefiting kids, and Abrams is reaching out to fans looking for additional donations.
For every $10 donated, fans will receive one entry in a contest with a grand prize that includes an all-expenses paid trip to the Star Wars: Episode VII set as a VIP guest of Abrams for the winner and a guest. Not only that, but the winner and guest will be put through the make-up process and be included in a scene in the film, as well as gain behind-the-scenes access to the set at Pinewood Studios and meet members of the cast.
Various items of Star Wars swag will be offered as runner-up prizes as well. Obviously the big draw is the grand prize, and you can make your donation to Force for Change and enter the contest at this website: www.Omaze.com/StarWars.
The contest is now open and will run through July 18 at 11:59pm PST.