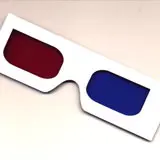 Families scurried to their closest picture show in the early part of the 20th century to watch the very latest movie or indulge in Saturday serial matinees and marathons. They had no choice at the time as this was the only means to enjoy the then burgeoning form of visceral entertainment.
In the 1950's, a little invention called the television set ignited a paradigm shift in how moviegoers were able to access entertainment. For the first time, they were able to stay at home to "view" a show and thus were apt to visit theaters less frequently. Theaters, in turn, lost money to the magical little black-and-white set-top box.
Hollywood was forced to scramble for a new means to lure patrons back into theaters so they turned their attention towards new technologies and innovations. Debuting in 1953 was a flick titled The Robe that was filmed with a new technology dubbed CinemaScope, i.e. a never-before-seen widescreen format no television at the time could replicate. It didn't take long for moviegoers to catch onto the new craze and fill theaters once again with the promise of a captivating CinemaScope presentation.
Flash forward 30 years into the 1980s and home video was vying to steal a chunk of box office receipts. Moviegoers could leave their shoes in the closet and stay at home to watch films on VHS, but not in the cinematic widescreen format. That is, until laserdisc arrived on the scene introducing the first letterbox titles. But consumers felt cheated by the black bars above and below the picture that "shrunk" their beloved films to a size smaller than their TV sets. Theaters retained the upper hand while laserdisc fought a losing battle to escape the confines of a niche audience.
It wasn't until the Digital Video Disc, or DVD, debuted in the late 1990s when consumers were granted an option of viewing films at home in either widescreen or full-screen. This "weaning effect" brought renewed interest to home video and turned previous widescreen naysayers into believers. Naturally box office receipts gradually declined as more and more moviegoers turned towards DVD rentals and purchases for their movie fixes.
Today, DVD continues to flourish albeit with reduced growth, and new players like Blu-ray Disc, video-on-demand and streaming video via the Internet are keeping moviegoers out of theaters more than ever. What has happened before will happen again, and Hollywood is turning towards an already proven and delicately refined technology to offer an exclusive draw its internal competition cannot.
The theatrical release of Journey to the Center of the Earth earlier this summer marks the return of 3-D filmmaking on a grand scale after The Nightmare Before Christmas was converted into 3-D and re-released late last year. Other catalog films like all six Star Wars entries, George A. Romero's classic Dawn of the Dead and Pixar's Toy Story films are being converted to 3-D as well. More importantly, studios such as Disney have stated all their future animated projects will be shot in 3-D.
Despite being around for several decades, Hollywood is touting 3-D as the new "best thing" in hopes moviegoers won't want to pass up the chance to experience a film in a way they cannot while parked on a couch at home. 3-D hopes to be the new CinemaScope that turns the tide to theaters' advantage once again.
Business and technology moves at a much faster pace than it did in the 1950's and although 3-D has yet to saturate a growing number of digital cinemas that support it, the Society of Motion Picture and Television Engineers have already created a task force to research and report on what it will take to bring 3-D into homes via the Internet, Cable, Satellite and Blu-ray Disc. 3-Ds existence as an exclusive cinematic experience is poised to be short lived.
We have all come a long way from air conditioned theaters, Sunday matinees, the first widescreen film and the introduction of the home theater concept. 3-D may be walking in the footsteps of CinemaScope at the box office, but today's climate necessitates theaters and home video work in harmony for the filmmaking industry to thrive as a whole. What works for one should work for the other whether it be 10-channel surround sound, 3-D, motion-coded chairs and so on. The days of a technology drawing a line between one medium and the next have been forever blurred.
When you pick up your favorite Blu-ray Disc film in the not-too-distant future, you might have to contemplate selecting the 2-D or 3-D version to watch. Makes you wonder what's going to surface next, doesn't it?
– Darrin Stock