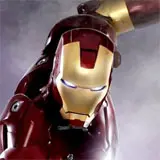 Iron Man is blazing a trail that will take a Dark Knight to follow.
Adams Media Research is reporting Iron Man Blu-ray sales are coming in at approximately 20% of all total home video sales. At some retailers like DeepDiscount.com, the Blu-ray share for Iron Man reaches as high as 50%.
For comparison, Blu-ray titles typically enjoy a share of less than 10% of total home video sales.
At Amazon.com, Iron Man has not only dominated the hourly sales charts, but it has become 2008s bestselling Blu-ray title in less than a week.
Some retailers have deduced Iron Man Blu-ray sales are strong because of the title's appeal to comic book, gaming and special effects fans, who also happen to be Playstation 3 adopters.
Overall sales numbers for Iron Man on Blu-ray will hopefully begin to surface next week.
Source: Videobusiness.com