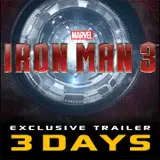 Marvel's first Iron Man 3 trailer and footage is set to debut this upcoming Tuesday, October 30 at Apple. You won't need to "like" anything to get a first look at it.
A few days ago, Marvel and Disney launched a Facebook app that requested we "like" it to increase the power of Tony Stark's Arc reactor. When the reactor reached 100 percent power, the first Iron Man 3 trailer would be unveiled. Or so we thought.
As of today that Arc reactor is at 76 percent and should reach 100 percent on Monday, ironically – or not – a day before the Iron Man 3 trailer will debut at Apple. This tells me that the Facebook app is potentially a sham designed to give us a 10-second or so sneak peek at the trailer just before the real deal launches. I suspect the Arc reactor is on a timer and will hit 100 percent when Disney and Marvel want it to.
We will find out for certain on Monday if/when it reaches 100 percent and what exactly it delivers. Cross your fingers it's something good.