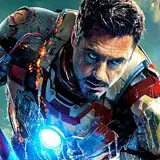 Paramount lost a lot to Disney when the Mouse House bought Marvel and with it many future years of probable blockbuster feature films. In a little bit of payback, Paramount is showing Iron Man 3 who is the boss with one of their own.
From almost the day it was first announced for Blu-ray 3D, Blu-ray and DVD, J.J. Abrams and Paramount's Star Trek Into Darkness has dominated the Blu-ray bestsellers chart at online retailer Amazon.com. It so right up to the film's release on September 10, and continues to do so well after it.
Typically when a blockbuster is about to be released on Blu-ray, especialy an effects-heavy genre film, it vaults to the top of Amazon's Blu-ray bestsellers chart. Marvel's Iron Man 3 is due to be released this Tuesday, September 24, and it has shot up Amazon's chart just ahead of the release. What it hasn't been able to do is pass Paramount's Star Trek Into Darkness.
Not counting Star Trek: Original Movie Collection on Blu-ray, which just wrapped up its turn as Amazon's Blu-ray Deal of the Week, Iron Man 3 currently sits in the third position behind Star Into Darkness in the second position, keeping in mind that Into Darkness has been available in stores for almost two weeks now. Can Iron Man 3 get one extra push and reach the top?
As a consolation prize, the Iron Man 3 Blu-ray 3D edition sits in sixth place while the Blu-ray 3D edition of Star Trek Into Darkness is a couple spots lower in eighth.