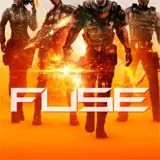 Electronic Arts has announced a May 28 North America launch date for Fuse, the latest effort from Insomniac Games. A European release date is set for May 31.
Fuse is a four-player cooperative third-person shooter that marks the first Insomniac Games release to appear on multiple platforms, Xbox 360 and Playstation 3. Insomniac Games is best known for the Spyro the Dragon, Ratchet & Clank and Resistance franchises.
In Fuse, up to four players step into the shoes of operatives Dalton Brooks, Izzy Sinclair, Jacob Kimble or Naya Deveraux. Insomniac Games has developed what they are calling LEAP technology that allows a single player to jump between any of the four operatives in real-time during the game.
The term "Fuse" refers to a deadly alien energy source that the operatives must stop. To do so, they will utilize Xenotech weapons powered by alien technology that, while dangerous, provides great advantages during combat. Campaign and multiplayer gameplay options are available, and player progression is synched between all gameplay types so improvements are always in the works no matter what mode is selected.
Here are some cool pre-order bonuses for those that secure their copy of Fuse before it is released:
Four Hyperion Prototype Agent Armor Skins – Upgrade your agentts' look with four special, state-of-the-art armor skins discovered inside the top-secret Hyperion Base
Four Hyperion Prototype Weapon Skins – Customize your Fuse weapons with four skins based on each of the original prototypes developed inside Hyperion Base
Quickdraw Team Perk – Increase your damage with this team perk adding powerful Fuse elements to all one-handed weapons for all four characters in your squad
Click here to pre-order Fuse for Xbox 360 or PS3 and earn the pre-order bonuses plus free shipping at Amazon.com.