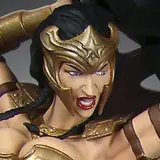 Injustice: Gods Among Us will arrive in April 2013 with a limited Collector's Edition package available to Xbox 360 and Playstation 3 owners. The Wii U version will not have a Collector's Edition option.
The highlight of the Injustice: Gods Among Us Collector's Edition set is an exclusive DC Collectibles statue that pits Superman against Wonder Woman. The statue stands 13″ tall and also includes the Fortress of Solitude with clear casted ice details, Lasso of Truth, Last Son of Krypton's escape ship, and a translucent smoke trail coming from the ship.
Also included in this set is a special collector's edition of an all-new DC Comics series, a digital download of the DC Universe animated feature-length movie Justice League: Doom, and three exclusive skins available to use in the game: Wonder Woman, Batman and Superman from DC Comics – The New 52.
The Injustice: Gods Among Us Collector's Edition package for Xbox 360 or Playstation 3 will set you back $99.99 when it eventually goes up for pre-order. Click the image below for a nice high resoluton look at the DC Collectibles statue.