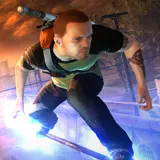 Sony has announced the Playstation 3 exclusive game inFamous 2 has been cleared for a June 7 release date in North America. The release date in other territories is expected to be on or within a couple days of June 7.
In addition, developer Sucker Punch Productions has confirmed the existence of the inFamous 2 "Hero Edition" stuffed with collectible items including an 8.5″ Cole statue, a replica of Cole's sling messenger bag, the inFamous mini comic from DC Comics, and a collector's edition soundtrack with bonus tracks. Any pre-order bonus available from select retailers will also be included in the inFamous 2 Hero Edition. Those include the Lightning Hook Power, Electrocution Grenade, Kessler character skin, and a 24k Gold Amp for melee.
Sony has priced the standard edition of inFamous 2 at $59.99 and the Hero Edition at $99.99. Pre-orders are already underway at Amazon.com.
Click here to pre-order and secure the standard inFamous 2 or here to pre-order the inFamous 2 Hero Edition at Amazon.com.
inFamous 2 is set after the events of the first game where you will continue the story of Cole MacGrath. This time around Cole heads south into the city of New Marais to battle a new enemy known as "The Beast." Sucker Punch has designed the game with two distinctive endings depending on how you use your powers while playing; to be a savior or a destroyer.