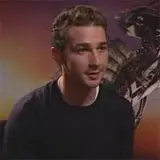 The latest stop on the worldwide Transformers: Revenge of the Fallen press junket tour was London, England, where BBC journalist Lizo Mzimba smooth-talked young star Shia LaBeouf into discussing his future projects.
In addition to talking a little bit about preparing for the upcoming Wall Street sequel with Michael Douglas, Shia offered the first bit of Indiana Jones 5 news worth taking note of. In particular, he says the project is "gearing up" now that director Steven Spielberg has "cracked" the story.
Shia explains Steven made these comments shortly before the Transformers tour began. Even so, movement on the Indiana Jones front would need to happen relatively soon if Harrison Ford's involvement is to be substantial.
Spielberg could theoretically pass the torch to Shia and we could be looking at "Mutt Williams and the blah blah." I personally don't think the character is strong or charming enough to carry Indy's torch. Mutt needs another film to train as a sidekick and Shia LaBeouf needs a few more years to "mature."
Watch Shia's short BBC interview here, and cross your fingers that Spielberg and his yet-to-be-named collaborators take Indy back to his Raiders of the Lost Ark roots.