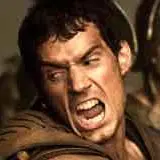 Immortals proved unstoppable at the box office on Friday as the stylistic film from Tarsem Singh easily topped the competition.
Opening on just over 3,100 screens on Veteran's Day, Relativity's Immortals starring soon-to-be Man of Steel Henry Cavill beat expectations in taking in $15 million during its first 24 hours in release. That's far less than the $28.1 million similarly themed 300 earned Warner Bros. on its opening day, but well above the $6.6 million Limitless put up for the studio. Immortals is now the biggest opening day film for Relativity, and should become the biggest opening weekend film as well when it wraps Sunday somewhere between $34 and $37 million.
Second place went to Adam Sandler's poorly reviewed Jack and Jill with $9.85 million, just a little bit above the $9 million Puss in Boots put on the board. Both family-geared films took advantage of kids being out of school to boost their Friday numbers. Puss in Boots was up 15 percent from the previous Friday, while Jack and Jill could actually reach $25 million through its first three days.
Tower Heist shrugged off the Brett Ratner and Eddie Murphy Academy Awards drama to drop a respectable 39 percent from its opening day a week ago with $4.9 million. The action comedy should finish the weekend somewhere in the low-to-mid teens.
The last newcomer this weekend, Clint Eastwood's biopic J. Edgar starring Leonardo DiCaprio, fell right in line with director's previous effort. J. Edgar opened to $4.25 million, while Eastwood's Hereafter debuted with $4.13 million in October 2010. Look for around $12.5 million from J. Edgar through the weekend.
Stop back Sunday afternoon for our complete studio estimates weekend box office report to see just how high Immortals was able to climb.