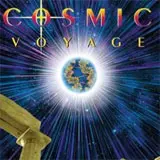 IMAX and Warner Home Video have announced the mix of computer imagery and science of Cosmic Voyage with a bonus Destiny in Space program is coming to Blu-ray Disc on October 14.
Cosmic Voyage and Destiny in Space will be housed on a BD-25 disc and presented in full-screen 1.33:1 1080p video and Dolby Digital 5.1 audio.
The bonus Destiny in Space program is considered the lone supplemental feature to Cosmic Voyage. No other extras are currently planned.
Cosmic Voyage with Destiny In Space on Blu-ray will carry an SRP of $28.99. We'll update our Blu-ray pre-order page with Amazon.com pricing as soon as its available.