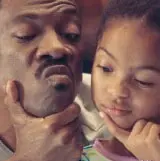 Eddie Murphy's latest box office underachiever Imagine That is coming to Blu-ray Disc and DVD on October 20 courtesy of Paramount Home Entertainment.
The film, which stars Murphy as a struggling money mogul who finds the secret to success through an imaginary world created by his young daughter, never founds its legs in theaters. It went on to make $16 million at the box office, far short of the estimated $55 million it cost to make.
The Blu-ray Disc edition of Imagine That will be presented in 2.35:1 1080p video and 5.1 Dolby TrueHD audio. Based on information currently available, bonus features will be nearly identical between DVD and Blu-ray with the former including deleted scenes BD does not.
Commentary with Karey Kirkpatrick and Yara Shahidi
Yara Shahidi Set Tour (HD)
A Playgound of the Mind (HD)
Getting the Part (HD)
Star Blanket: Native American Influence (HD)
The King and His Jesters (HD)
What Were They Really Saying?
Johnny Whitefeather Outtakes (HD)
Evan and Olivia Outtakes (HD)
Imagine That pre-order information and high-res cover art are due in the days ahead and will be passed along once available.