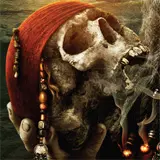 Disney via IGN has released the final Pirates of the Caribbean: On Stranger Tides character poster in the form of Blackbeard as played by Deadwood's Ian McShane.
Each of the previous Pirates 4 character posters have depicted the core cast members holding their weapon of choice. Blackbeard, it would appear, fancies a rotting skull in his palm.
Behind Blackbeard are a pair of pirate ships suffering from a bad case of fire on deck. The previous posters showing a single ship engulfed in flames had me guessing it was Sparrow's Black Pearl. Now there's reason to believe the Black Pearl and Queen Anne's Revenge, Blackbeard's ship, could possibly face off with and destroy one another.
Check out the previous character posters of Johnny Depp as Captain Jack Sparrow, Penelope Cruz as Angelica, and Geoffrey Rush as Captain Hector Barbossa.
Pirates of the Caribbean: On Stranger Tides sails into theaters on May 20 in 2D and 3D.