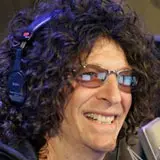 This morning shock jock Howard Stern took to his Sirius Satellite radio show and addressed rumors that began late last week suggesting he might replace Simon Cowell on American Idol.
Rather than stop at confirming American Idol was interested in him, Stern said the interest goes both ways. But with a catch, of course.
"They'd have to pay me a ton of dough, because I already make a ton of dough," Stern said. "A $100 million to judge a karaoke contest? Yeah, I think I would do that show for $100 million. It would be the best thing that happened to me. What a cush job… $100 million for four months. Who wouldn't take that?""
Why wouldn't Fox match Stern's $100 million/year Sirius contract? The show faces a mass exodus of viewers when Simon leaves after this season. They need someone with Simon's arrogance, presence and willingness to say whatever comes to his mind. Stern can do that in his sleep.
But I would like to offer another suggestion all the same. This person just hosted the 2010 Golden Globes and did a bang up job, especially his bit with Mel Gibson and a pint of beer. He knows humor inside and out and makes some people laugh with a simple eyebrow raise. He's also a Brit, like Simon, 'cause some people dig the accent. Of course I am talking about Ricky Gervais.
While Stern would keep the show lively and likely offer sexual charged remarks even Simon might cringe at, over time he might drive away some of that core young female demographic that helps keep Idol at the top of the ratings year over year. Gervais has more mass appeal across all demographics while still bringing that "edge" like Simon did. He is also a fantastic improviser and is certainly not afraid of getting a little dirty in front of anyone.
Will Gervais' name come up in talks for the head judge's position? Probably not. But take a moment to imagine him at the table and you might agree that he would make an excellent Idol judge.