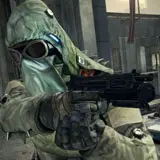 The Killzone 2 PS3 demo is coming next month and it's not something any Playstation 3 owner will want to miss. But how can you guarantee access to the demo? Quite simply, actually.
Gamestop is offering an exclusive pre-order deal where any customer who secures their copy of Killzone 2 for PS3 early at Gamestop, either online or at a physical store location, will be granted access to the demo.
Those who pre-order their copy online should start looking for the demo code to arrive in their e-mail inbox starting on February 3.
In-store pre-orders will be issued a "Rave" card granting demo access beginning on January 5 (receipt of the card, not activation of the demo). When the current allotment of cards run out, they're out for good. The old "while supplies last" disclaimer applies.
Sony has yet to reveal a release date for Killzone 2 but current retailer listings at multiple websites including Gamestop and Amazon both point towards a late February release.