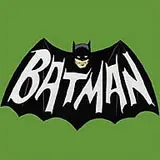 Hot Toys has found great success with their Tim Burton and Christopher Nolan line of 1/6 scale Batman-themed products. From Heath Ledger and Jack Nicholson's Jokers to the upcoming flying Bat, they seem to hit a home run with each new product announced.
No one could have guessed that the success of their Batman lines would lead to a 1/6 scale Batman 1966 Live-Action TV Series line. We're talking Adam West, shark repellent, and the most angular Batmobile to ever hit the road.
Right now the only confirmed product is the 1/6 scale Batmobile which you can see below. Batman and Robin in their campy costumes can't be too far behind. Who is up for a Julie Newmar as Catwoman figure?
Hot Toys will likely have at least the 1960s Batmobile on display at Comic-Con beginning tomorrow. Look for more pics to be passed along shortly.