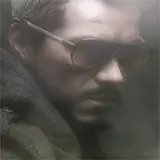 Hot of the heels of Comic-Con, Hot Toys will be setting up shot at Ani-Com in Hong Kong beginning tomorrow and bringing with them several never-before-seen 1:6 scale figures based on movie properties.
The teasers for some of these new figures began last night with what appears to be Brandon Lee as seen in The Crow. This isn't 100 percent confirmed yet, but the image plus online chatter seems to indicate that The Crow is getting a surprise high-end Hot Toys treatment and figures to be a hot seller.
The second teaser just came online and will make some Hot Toys collectors groan. Joining an already robust Iron Man 3 line is Tony Stark with kitbash weapons as seen during the Mandarin's mansion infiltration. This marks the second Tony Stark based on Robert Downey Jr. figure (not including countless Iron Man figures) to join the Hot Toys 1:6 line, the first being the Tony Stark Iron Man 3 workshop version.
We will pass along updates on all of Hot Toys' newly revealed 1:6 scale movie-based figures from Ani-Com as they are revealed.