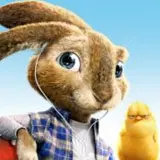 Hop leaped right over the competition at the box office on Friday to the tune of $11.4 million on its opening day.
With the big double-digit opening day, Hop now stands to break the $30 million mark through Sunday and also break all expectations Universal Studios had for the film. Universal owes Illumination Entertainment, the creators of Hop, a big thank you for delivering their second consecutive hit. Illumination and Universal's first collaboration was on Despicable Me which broke $56 million its opening weekend.
Taking second place on Friday was Summit Entertainment and Duncan Jones' Source Code starring Jake Gyllenhall. It too broke expectations with $5 million on Friday and has an outside chance of breaking $15 million through Sunday.
The other new opener, the low-budget horror flick Insidious, completed the "outperform club" with a strong $4.8 million opening day. Rounding out the top 5 were Limitless with Bradley Cooper coming in at $3 million and Diary of a Wimpy Kid: Rodrick Rules with $2.8 million.
Check back Sunday afternoon for the complete weekend box office results to see how high Hop jumped and whether Source Code or Insidious took second place.