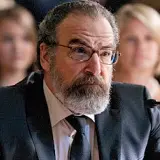 Season 3 of Showtime's Homeland is still in its infancy with only two of the twelve episodes having aired. That hasn't stopped online retailer Amazon.com from taking pre-orders for Homeland: Season 3 on Blu-ray and DVD.
The approximate release date for Homeland: Season 3 on Blu-ray and DVD is sometime in September 2014, or eleven months from now. It really doesn't make sense to pre-order it early on Blu-ray especially when the $53.99 price is only 10 percent lower than the $59.99 retail price. Then again, any early pre-order will automatically adjust to a lower price when Amazon drops the price closer to release — and they will.
Homeland: Season 3 stars Claire Danes, Damian Lewis and Mandy Patinkin, and the third episode will premiere this Sunday, October 13 at 9/8c.
Click here to pre-order Homeland: Season 3 on Blu-ray with free shipping.