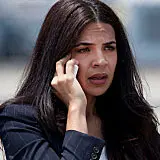 Homeland isn't wasting much time cutting to the chase, it is? First Carrie finds herself back in the thick of things in the Season 2 premiere after being run out from the CIA in Season 1. Then, one episode later in 'Beirut Is Back,' tangible evidence surfaces that will vindicate Carrie and her theory about Brody. That is assuming Saul (Mandy Patinkin), the holder of this evidence, decides to immediately come forward with it.
If what looks to be happening in the promo for the next episode of Homeland, 'State of Independence,' is correct, then Saul will be giving the video of Brody's confession to Estes. It's way too early in the season for Brody to go down which begs the question: who else in the CIA is working as an undercover agent for Nazir? I suspect someone else with some very high clearance is making Brody's job a lot easier.
Brody looks to be an emotional wreck as the walls around him cave in. He looks to chase someone into the woods and kill them, someone who knows about him being a double-agent. As one of the clips below reveals, this person is someone that Brody is supposed to protect and not kill. For some reason Brody feels obligated to do the deed. The further Brody digs himself in with Nazir and the U.S. government, the more unstable and paranoid his mind becomes.
As for Carrie, she has felt the rush of Beirut and wants back in despite her father's warnings. The bigger question is whether Estes will let her back into her old position. The early indication in the promo trailer is he doesn't. If he doesn't and has the knowledge of Brody, what does that say about Estes? It would not surprise me in the least if it turns out Estes was bought out.
Below are two minutes worth of clips featuring Brody and Carrie, and the promo trailer for 'State of Independence.' Catch this episode of Homeland that marks the one-quarter completion point of Season 2 this upcoming Sunday on Showtime at 10/9c.