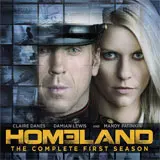 Claire Danes winning the Outstanding Lead Actress in a Drama Series Emmy was predictable considering she walked away with a Golden Globe win earlier this year. Homeland sweeping its category at the Emmys for the big three awards was not.
That's precisely what happened Sunday night as Danes was joined by Damian Lewis who won the Outstanding Lead Actor in a Drama Series Emmy. The icing on the cake was Homeland knocking off AMC's Mad Men from its four-year reign to win for Outstanding Drama Series. Throw in additional Homeland Emmy's for Single-Camera Picture Editing, Casting and Writing, and you have an absolutely dominating performance from Showtime's freshman drama.
Shortly after the Emmy's concluded, potential new Homeland fans flocked to sites like Amazon.com to snatch up recently released em>Homeland: Season 1 on Blu-ray and DVD. The Blu-ray version cracked Amazon's top 10 Blu-ray bestsellers chart on Monday, quite the feat considering the heavyweights like The Avengers and Bond 50: The Complete 22 Film Collection that it is up against. It would probably still be there if Amazon did not sell out, leaving only third-party sellers left with the set.
Not everyone who caught the Emmy's and wants to join Homeland's growing audience wants to own the disc-based version of the show's first season. Those that are already subscribed to Showtime via their cable or satellite package will be happy to hear that Showtime has acted fast after its big Emmy wins and will run a marathon of the entire first season of Homeland beginning this Saturday, September 29 at 12 pm ET/PT. The marathon will run 12 consecutive hours until midnight to the Season 1 finale.
Then, less than 12 hours later, Homeland: Season 2 will kick off with what should be the highest rated episode the series has seen yet.