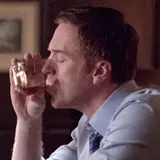 Showtime has renewed the hit domestic terrorism series Homeland starring Claire Danes and Damian Lewis for a third season following Sunday night's episode hitting a ratings high.
Sunday night's episode of Homeland threw viewers for a loop when Carrie and Brody reunited for the first time this season and unexpected fireworks flew. I won't spoil what happened for those of you whom have not seen the episode yet, and definitely don't watch the preview clips below if you fall into that group. Suffice it to say the series has taken a dramatic turn and it's difficult to pinpoint exactly where the next eight episodes are headed – though I have my suspicions.
That episode attracted 1.75 million viewers, more than the Season 2 premiere or any previous episode for that matter. Hitting a series high this deep into the season made the decision to book a third season a no-brainer for Showtime. They have likely had their finger on the renewal trigger since the Season 2 premiere. Unlike Brody's vest, their trigger actually works.
Homeland seems poised to score a Best Actress in a Drama Emmy for Claire Danes as long as it remains on the air. Season 1 even earned Best Drama, knocking off the seemingly unbeatable Mad Men and possibly setting up an Emmy dynasty of its own.
The next episode of Homeland debuts this upcoming Sunday at 10/9c on Showtime. Watch a couple spoilerish sneak peeks below.