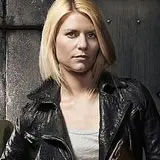 Showtime has renewed the conspiracy thriller series Homeland starring Claire Danes, Morena Baccarin, Damian Lewis, Diego Klattenhoff, David Harewood and Mandy Patinkin.
The renewal was an easy one for the pay cable network with each subsequent episode since the premiere showing an increase in ratings. Having Dexter as a lead-in certainly didn't hurt. Creators Howard Gordon and Alex Gansa of 24 fame can now settle down and plot out where Homeland will head into its second season and possibly beyond.
Homeland begins with American soldier Nicholas Brody (Lewis), who is found in captivity in Iraq after having been missing and presumed dead for eight years. A CIA intelligence officer (Danes), who carries a great deal of emotional and psychological baggage, suspects his discovery was a set up and that he may be part of a plan to hatch a massive terrorist attack on United States soil.
The mystery and core plot asks whether Danes' suspicions are correct, or whether Brody is merely struggling to fit back into an Americanized lifestyle with his family.
Homeland airs Sunday evenings at 10pm EST/PST immediately following Dexter.