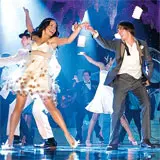 When Disney announced the original High School Musical was coming to Blu-ray on February 17 it only made sense the third film in the series would debut the same day. Now Disney has indeed confirmed High School Musical 3: Senior Year will receive a lavish Blu-ray treatment on that date.
High School Musical 3 Deluxe Extended Edition will be packaged as a three-disc set with the third disc housing a standalone DVD version of the film while the second disc includes a standard definition digital copy.
The feature presentation, with new scenes added into the film from the cutting room floor, will be presented in widescreen 1.85:1 1080p video and 5.1 DTS-HD Master Audio.
Bonus features will be identical to the two-disc DVD edition with a handful of Blu-ray exclusives, one tied to BD-Live, to sweeten the deal.
Extended Version Of The Movie
DisneyFile Digital Download Copy Disc
BD-Live Photo Feature (Blu-ray exclusive)
Senior Awards (Blu-ray exclusive)
New Cast Profiles (Blu-ray exclusive)
DVD Copy Of The Extended Movie
Cast Goodbyes
Bloopers
Deleted Scenes
Night Of Nights
It's All In The Dress
Sing-Along Mode
High School Musical 3: Senior Year Deluxe Extended Edition on Blu-ray will retail for $39.99. Look for pre-order information in the coming days.