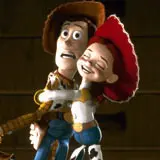 The Toy Story trilogy is coming to Blu-ray on November 2 to tie in with the home video debut of Toy Story 3 on Blu-ray and DVD. The massive 10-disc set will include three-disc editions of Toy Story and Toy Story 2 and a four-disc edition of Toy Story 3. All three Pixar films will come with digital copies and the DVD edition packed in.
Until now we've had no idea how this 10-disc set would be packaged or what its official name would be. Thanks to a new high resolution image of the set's contents you can refer to the Toy Story trilogy on Blu-ray as the Ultimate Toy Box Collection.
Click the image below to view the high-res version. Pre-order the Toy Story Ultimate Toy Box Collection on Blu-ray for $65.99 at Amazon.com.