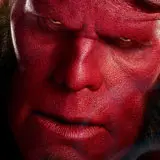 A retailer advertisement released today confirms Hellboy II: The Golden Army is not only Blu-ray bound, but will come in two different skus with dramatically different prices and features.
A two-disc collector's edition will come packaged in limited edition lenticular packaging and include a Comic Book Builder tool that may or may not be exclusive to Blu-ray, a digital copy of the film and access to Universal's "BD-Live Center." That set carries an SRP of $39.98.
For $64.98 you can get all of the above plus a limited edition Golden Army statue and an Excerpt from the Journal of Guillermo Del Toro housed in a journal replica.
Both sets will include over three hours of supplemental features and be available on November 18. We won't know additional specifics until Universal makes an official announcement in the weeks ahead.
Discuss Big Red's second film coming to Blu-ray in the dedicated Hellboy II HDR Forum thread.